After some consultation, we've got a definition of "scoring chance" that is a reasonable one going forward. We've deployed it into our site tables for players and teams to test it out.
We need two features to make this work. First, recall our definition of "danger zones" as broken into probability areas: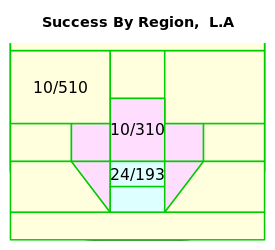 Second, we've empirically tested for higher probabilities within these zones for two types of shots:
Rebounds: Any shot that follows within 3 seconds of a blocked, missed or saved shot. All have measurably higher probabilities of success in each of the three zones.
Rush shots: Any shot that follows within 4 seconds of any event in the shooting team's neutral or offensive zones. This is based on David Johnson's definition, but the four second threshold gave general and statistically significant increases in probability.
So based on these measures, the average probability of a goal given the type and locations, and the consideration of team defense, we have these conditions for a "scoring chance":
In the low danger zone, unblocked rebounds and rush shots only.
In the medium danger zone, all unblocked shots.
In the high danger zone, all shot attempts (since blocked shots taken here may be more representative of more "wide-open nets", though we don't know this for sure.)
These definitions are flexible but we feel they're a reasonable starting point given all the data we have available. We're open to changing it if we have sufficient numerical evidence.